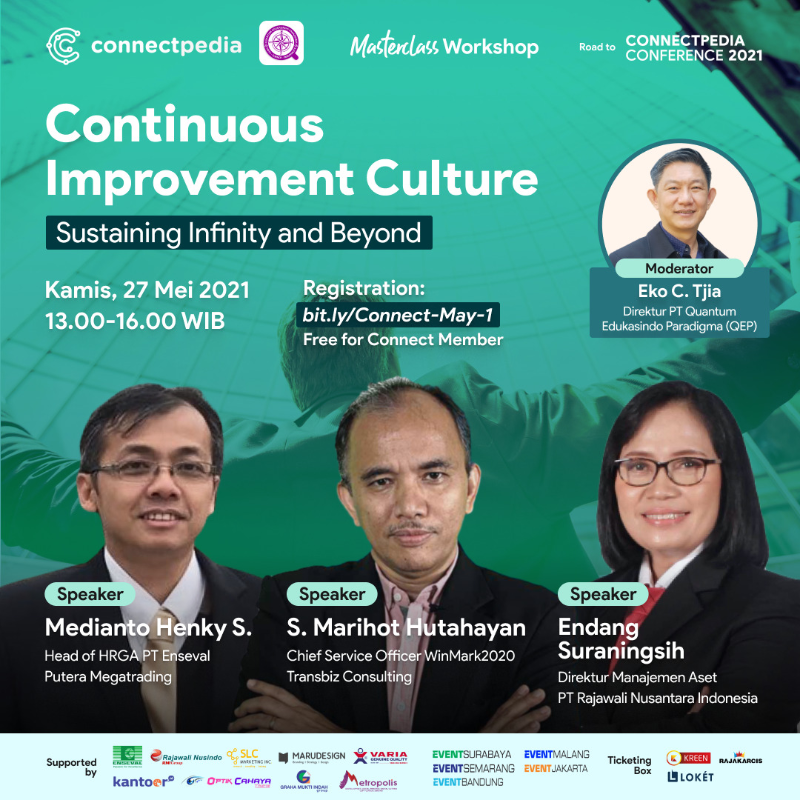 Continuous Improvement Culture: Sustaining Infinity and Beyond
Description
BENAHI DULU BUDAYA-NYA, BARU BISA SUKSES!
Budaya seringkali dipandang sebelah mata dan tidak jarang dianggap EFEK SAMPING dari suksesnya perusahaan.
PADAHAL...
Penelitian yang dilakukan oleh The Institute of Management menunjukkan bahwa 90% organisasi menjadi lebih efektif ketika merubah budaya kerjanya.
Budaya perusahaan menjadi kunci penting dalam mengatasi masalah adaptasi dan integrasi internal. Selain itu, dapat pula menjadi keunggulan kompetitif untuk mempertahankan kinerja.
Mari belajar bersama untuk membenahi budaya kerja perusahaan Anda dalam webinar
"CONTINUOUS IMPROVEMENT CULTURE : Sustaining Infinity and Beyond"
Date and Time
Thursday, 27 May 2021 13:00 - 16:00 WIB
Location
Event Online via Zoom
Ticket
---
Continuous Improvement Culture
All benefit: Softcopy Materi, Playback Access, E-Certificate
Sales Ended on Wednesday, 26 May 2021 | 15:00
Continuous Improvement Culture
Ended on Wednesday, 26 May 2021 | 15:00
Continuous Improvement Culture: Sustaining Infinity and Beyond

---
Date and Time
27 May 2021 13:00 - 16:00 WIB
Location
Event Online via Zoom
Price
Rp 150,000,-
Kreen Customer Service
Chat Kreen
Send Email to Kreen
---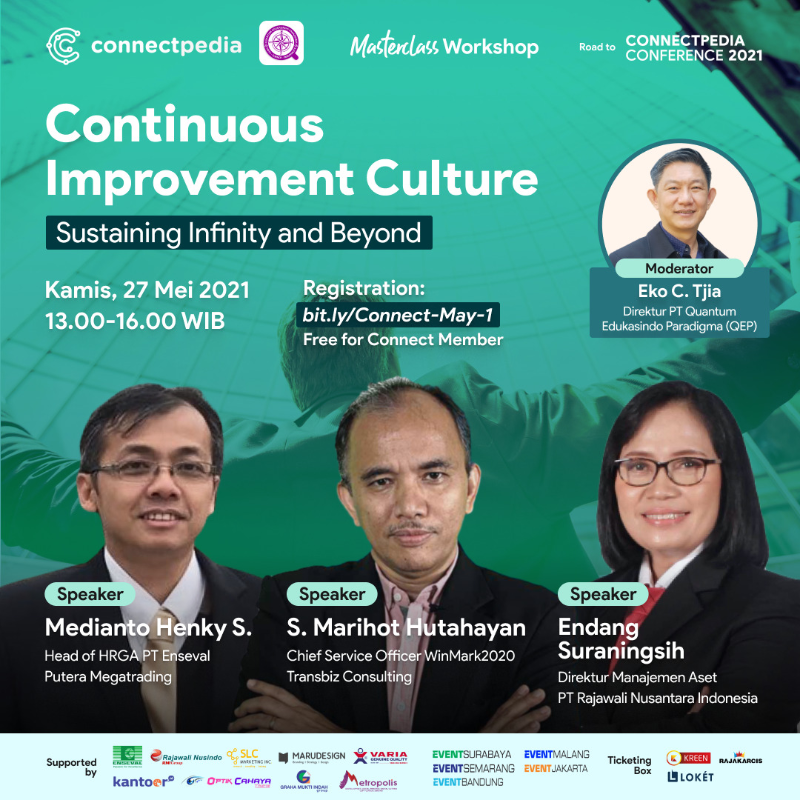 Continuous Improvement Culture: Sustaining Infinity and Beyond
---
Buy Ticket
My Order